Ryan "Rhino" Hawson from his Blog -
Representing Australia, Mountain Bike Marathon World Chalpionships Villabassa Italy July 2008.
"This morning was better than any bike upgrade I have ever made."
I did the best thing for my riding today, the single best VALUE upgrade to my riding. EVER. It is as simple, and as clear as I can make it.
I may "race" in elite class, but I have never said I was the fastest/smoothest/ flowing rider in single track. I do love riding the tight and twisty, but I always new I could be a lot faster. I just never really new how.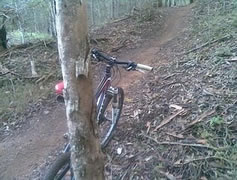 So this morning I took time off the bike, to listen, observe and put into practice everything that Rob would tell me. It was great, I know some things that I was doing wrong, but how they play into the single track, and the flow on from bad technique to slow times is amazing.
The single BAD thing I do too much, is have a view like this below. SO with looking up the trail, it has opened up an ability to go so much faster. I won't go into anymore than that. But the explanation, and practice of doing the things Rob said, made riding quicker. And not sketchy fast, but flowing fast....
Roadie Rob spent close to 2 hours with me this morning. Everything from downhill, uphill, corners, bunny hop and slow technical work was discussed. With practice and repetition to install it into my head and legs.
Forget tyres, more carbon, new shoes, blah blah blah....do yourself a service, contact this bloke...do a session, and voila.....you will have learnt something new.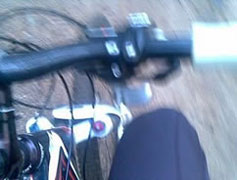 So how impressed was I? Very much so. So much that I will most likely see rob every month or so, to work on my technique and skills. The improvements this morning was enough to wet my appetite, and even I know that more improvements can be made.
Contact can be made via http://www.roadierobsbicycleschool.com/ Once you sign up, let him know that you want to smash that rhino bloke through the single track, and I am sure Rob will only be too happy to help you do that.